Eastern/Southeast Queens News
Stories from Jamaica, Springfield Gardens, Hollis, Queens Village, St. Albans, Laurelton, Richmond Hill and South Ozone Park
Top Story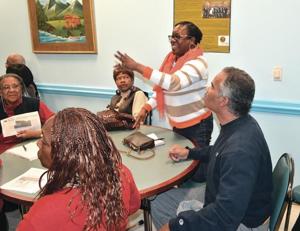 It was intended to be a small informal meeting with representatives from Cambria Heights at Community Board 13's Land Use Committee at CB 13's Queens Village office.It ended up as a standing room-only gathering on Monday night filled with angry residents who say they have no reason to trust the good faith of the Lubavitch group seeking to build a four-story complex on Francis Lewis Boulevard in a residential neighborhood.
Updated: April 16, 2015 - 12:30 pm

Queens Borough President Melinda Katz and Deputy for Housing and Economic Development Mayor Alicia Glen announced Wednesday a wide-ranging plan to stimulate economic growth and improve livability in Jamaica.

The Jamaica Now Neighborhood Action plan was released at a crowded press conference attended by many area politicians, activists and executives from area institutions.
Updated: April 16, 2015 - 3:41 pm

Not even days of warnings and days of unprecedented preparation fully prepared the people of New York City for the impact of Hurricane Sandy in 2012.

With that lesson in mind, more than 100 people came out to the Robert Ross Johnson Family Life Center in St. Albans last Thursday as the New York Army National Guard offered a presentation on how a little personal preparedness can go a long way.
Posted: April 16, 2015

Some homeowners were victims of predatory lending and some of the 2008 housing recession; others have just been unable to recover after Hurricane Sandy put their houses —and mortgages — underwater.

And several members of the Queens delegation to the City Council on Tuesday asked members of the de Blasio administration just what policies and spending the mayor was willing to deliver in order to stop the ongoing run on foreclosures plaguing Queens.
Updated: April 16, 2015 - 3:47 pm

There was very little that Jack Friedman didn't get himself involved in.

"Jack was one of those people who found time to help others and get active," state Sen. Joe Addabbo Jr. (D-Howard Beach) said. "I just think he was a guy who generally loved people."
Posted: April 16, 2015

Capt. James Fey of the NYPD's 103rd Precinct beamed Tuesday night when a member of the audience inquired about Officer Kenneth Healey, who back in October sustained a serious head wound from a self-styled hatchet-wielding jihadist.

Healey was being honored Tuesday night, along with fellow rookie cops Joseph Meeker, Taylor Kraft and Peter Rivera by the National Association of Police Officers, which each year pays tribute to 10 individual or groups of officers for performance in the line of duty in the previous year.
Posted: April 16, 2015

The bond between the New York Mets and the families of slain Detectives Rafael Ramos and Wenjian Liu continues to grow.

The team honored the two assassinated cops with an emotional ceremony before Monday's home opener at Citi Field, which included a moment of silence and an NYPD helicopter flyover.
Updated: April 17, 2015 - 12:21 pm

Fans came from as far away as the United Kingdom on on Monday as the New York Mets played their 2015 home opener before the largest regular season crown in Citi Field history.

But the Borough of Queens also was very well represented from Bayside to the Rockaways as the Amazin's shut out their long-time rivals, Philadelphia Phillies, by a final score of 2-0.
Updated: April 16, 2015 - 12:07 pm

Look across town at the New York Yankees. Each player is seemingly older, more worn down and making more money than the next, while the team's impact minor league prospects are still at least a year away from reaching the Bronx.

And if Monday was any indication of how this year and future seasons will play out, there's a real chance New York's best baseball will be played at Citi Field starting now and continuing for years to come.
Friday 04/17/2015
Updated: April 17, 2015 - 5:48 pm

The weather's supposed to be quite nice this weekend, and there are plenty of outdoor activities and events you can attend in Queens to make the most of it.
Updated: April 20, 2015 - 6:34 pm

A Cambria Heights man has been charged with second-degree murder in the death of a homeless man who was found stabbed on a Laurelton street Thursday afternoon.
Updated: April 17, 2015 - 3:03 pm

Claudia Paguay

Claudia Paguay is a senior theater major at the Humanities and the Arts High School in the Campus Magnet Complex in Cambria Heights who is very active and well respected. She is the salutatorian for the class of 2015.
Thursday 04/16/2015
Updated: April 16, 2015 - 12:05 pm

Some Queens families are testing the limits.

Eight children at PS 69 and 11 at IS 230, both in Jackson Heights, have joined an estimated 60,000 statewide who are not taking standardized tests, which take place in public schools this week and draw from the state's Common Core curriculum.
Updated: April 16, 2015 - 12:09 pm

Members of the Borough Board on Monday expressed skepticism toward the city's plan to relax parking requirements for senior and affordable housing located near public transit under a citywide rezoning proposal, saying that it would exacerbate an already big problem in Queens.

"Where are they going to go? This is crazy," Community Board 5 Chairman Vincent Arcuri Jr. said. "I think this plan needs to be shelved and started all over again, because again it's Manhattan-centric."
Posted: April 16, 2015

The dream isn't over, yet.

After Gov. Cuomo dropped the DREAM Act from the state budget last month, sponsor state Sen. Jose Peralta (D-East Elmhurst) is pushing for it to be passed in June, whether his name is on it or not.
Posted: April 16, 2015

When Gus Tsekenis began working at the Astoria Library as a manager three years ago, he found a "small branch with a lot of problems." It was ranked 57th out of the then-60 Queens Library locations in terms of circulation, he said.

Now, Tsekenis, an Astoria native, said there's a gaming group and a Yu-Gi-Oh tournament for kids. He said imagination and teaching them to love reading is key.
Posted: April 16, 2015

Last Wednesday evening, residents, elected officials and advocates gathered in Jackson Heights to talk about a topic close to the heart of the diverse community: immigration.

Just a couple of weeks after Gov. Cuomo excluded the DREAM Act from the state budget and also mere days after Mayor de Blasio declared New York City to be among those standing by President Obama's executive orders on immigration, a forum aimed at answering residents' questions also focused on fraud issues.
Posted: April 16, 2015

With President Obama's office's recent declaration that "gay conversion therapy" — or psychiatric practices geared toward "curing" lesbian, gay, bisexual or transgender youth — should be banned in states, New York legislators are calling for the passing of a bill that would prohibit the procedures.

Last Thursday, state Sen. Mike Gianaris (D-Astoria) reignited the call to pass Senate bill 4917, which would prohibit mental health professionals from partaking in any effort to change a minor's sexual orientation.
Posted: April 16, 2015

New St. John's men's basketball coach Chris Mullin has been on the job for just three weeks, but he's already kicked the talent acquisition process into overdrive.

The busy offseason for the Red Storm continued earlier this week, as sophomore combo guard Rysheed Jordan announced on Twitter on Tuesday night that he would return to the Jamaica school for his junior season.
Posted: April 16, 2015

State Sen. Mike Gianaris (D-Astoria) announced Monday that he and Assemblywoman Aravella Simotas (D-Astoria) are introducing matching bills prompting parents to get their children vaccinated.

The bills mandate that parental guardians wanting their child to be excused from vaccinations should get a physician's affidavit saying the risks were made clear.
Posted: April 16, 2015

The year is 1965. There are race riots in the United States, the first troops are deployed in the Vietnam War and civil rights activist Malcolm X is shot dead in New York City. But in Queens it is the second and final year of the World's Fair at Flushing Meadows that proved to be a glorious escape for young and old.

The fair, under the direction of Robert Moses, opened the previous April and ran for six months. Attendance wasn't as high as expected and Moses hoped to recoup that loss in 1965 so that when the fair closed, permanent improvements could be made to the park.
Posted: April 16, 2015

Come Saturday, New York Cosmos fans from the five boroughs and beyond can see Jackson Heights native David Diosa, 23, who enters his fifth year with the team, play at the club's home opener at Hofstra's James M. Shuart Stadium in Hempstead, LI.

The Cosmos will face their rivals, the Tampa Bay Rowdies.
Posted: April 16, 2015

A Queens used car dealer has been charged with bilking the city and state of nearly $500,000 in unreported sales tax over a five-year period, according to authorities. Farzin Pourad, 48, of Great Neck, was arraigned on Monday, according to a statement issued by the office of Queens District Attorney Richard Brown.

Brown said Pourad has been charged with second-degree grand larceny, second- and third-degree criminal tax fraud, first-degree offering a false instrument for filing and first- and second-degree scheme to defraud before Queens Criminal Court Judge Elisa Koenderman.
Posted: April 16, 2015

The son of Councilman Daneek Miller (D-St. Albans) was arrested after an alleged altercation on a Jamaica street.

The New York Daily News reported that Coron Miller, 31, was charged with assault, criminal mischief, resisting arrest and menacing.
Posted: April 16, 2015

As part of the 50th anniversary of the city Landmarks Law, Borough President Melinda Katz has announced several events throughout the borough to celebrate the event.

A special reception will be held on Tuesday at 5:30 p.m. at the Queens Museum, which is also the 50th anniversary of the Panorama of the City of New York that opened at the World's Fair. To attend, go to RSVP@queensbp.org.
Wednesday 04/15/2015
Updated: April 17, 2015 - 10:56 am

Enjoy the Queens Chronicle's 2015 spring guide.
Updated: April 17, 2015 - 11:08 am

To use a tennis term, the Mets held serve the first week of the 2015 season as they broke even on the road, taking two out of three from the Washington Nationals before losing two out of three to the Atlanta Braves. Considering that the Mets only won four games against the Nationals in all of 2014 and have routinely been swept by the Braves in Turner Field ever since it opened nearly 20 years ago, splitting the six road games was a positive. It's also a reminder of why for the first time since 2009, when Mets fans learned of a rogue Far Rockaway financier named Bernie Madoff, there seems to be a consensus that the Major League Baseball franchise from Queens is heading in the right direction, thanks to a combination of savvy veterans and young players.

And that was just bolstered by Monday's home-opener 2-0 victory over the Phillies before a record crowd at Citi Field.